[caption id="attachment_7505" align="alignnone" width="580"]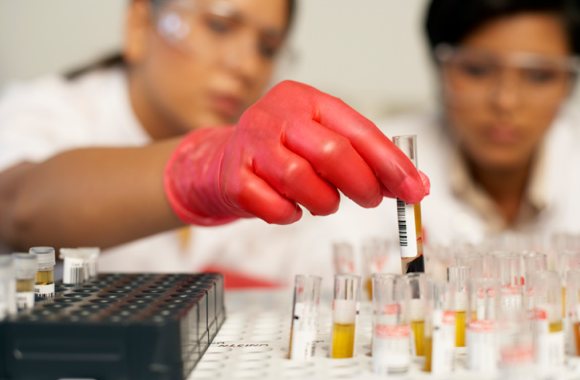 Becoming a Medical Lab assistant might be the right choice for you.[/caption] If you are naturally inquisitive, curious and fascinated by the mechanisms of a human body, pursuing the profession of Medical Lab assistant might be the right choice for you. Around the world, millions of medical laboratories depend on lab assistants to obtain measures and process specimen samples. They also help in maintaining the apparatus, equipment and supplies in these
laboratories
. For these reasons, they have become invaluable for the medical and scientific community. According to Statistics Canada, you can earn the highest hourly average wages in Calgary, Alberta at $32.82 per hour, while the lowest average comes from Montreal, Quebec at around $18.00 per hour.
Your day-to-day tasks will include:
Precise duties and job titles of Medical Lab Assistants vary since there are many categories of Medical Lab Assistants, such as medical technologists, pathologist's assistant, immunohematology technologist and cytotechnologists. However, the generic tasks of Medical Lab Assistants include:
Preparation of specimens for examination which is done by cutting tissue and mounting the samples for viewing under a microscope
Monitoring of equipment and apparatus to detect any break down or error
Testing of the specimens by using a microscope and automated analyzers for the detection of source of disease
Analyzing computer generated medical reports
Keeping the records and updating the patients' medical files
Registration of patients and keeping track of billing and insurance records
What Do I Need To Start With:
To enroll for the Medical Lab Assistant Career program at any college in Canada, you need:
High School diploma or General Equivalency Diploma
Proof of proficiency in English
VCC MEDC 1010 Medical Terminology (Basic) with a C+ or better, OR completion of Biology 12 with a C or better OR prior associated learning/training in a Health Care field (e.g. Medical Laboratory Technologist, RN, Practical Nursing, Biochemistry)
A criminal record check
What Do I Need to Study?
The bare minimum requirement for starting a career as a Medical Laboratory Assistant is an associate degree from a community college or a vocational school. Schools also offer other courses such as medical terminologies and data entry, which can boost knowledge of the medical field and help you get a job more easily. Many colleges across Canada offer degree programs in medical technology. Most colleges offer special on-the-job training, along with the coursework. Medical Lab Assistants are also required to be licensed.
What Else Do I Need?
Manual dexterity, along with sharp vision is required of a medical lab assistant since they handle hundreds of specimen samples. Alacrity and attention is needed
One has to work under pressurized conditions
One has to be computer literate and must have organizational skills, which will add worth to one's resume
Where The Jobs Are:
You can start a career as clinical support staff in either public or private sector laboratory facilities. The outlook is great for people looking to dive into this field. People who are willing to travel can easily find jobs that pay in the $50,000 and above range. People who have to stay close to home may risk earning less money, but will enjoy the stability and benefits.