[caption id="attachment_15495" align="aligncenter" width="570"]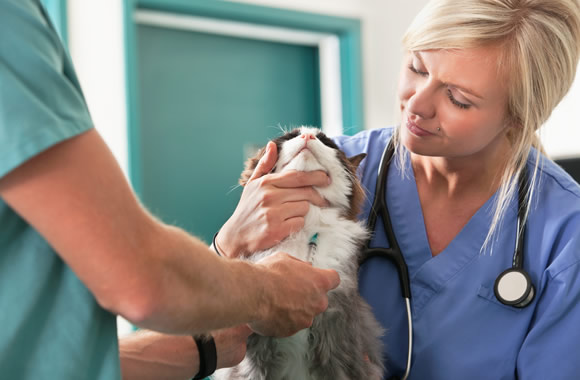 Veterinary assistants are important aides in the veterinary clinic, working alongside vets to provide quality care to animals.[/caption]
What Does a Veterinary Assistant Do?
Just as nurses work with doctors to take care of human patients, Veterinary Assistants work alongside vets to take care of animals. Veterinary assistants provide compassionate and ethical care for companion animals. They are adept at identifying animal behaviours and adapt their approach to animals as needed during examinations and other procedures. Veterinary assistants perform basic clinical procedures (taking vital signs, administering medication), collect and process samples for laboratory work, and prepare and maintain surgical areas and supplies to maintain a sterile environment. They provide wound and bandage care, perform routine dental procedures and administer treatments as directed by the supervising veterinarian. Excellent communication skills are vital, as Veterinary Assistants often provide counseling and after-care instructions to pet owners. They may also handle reception and basic bookkeeping duties, greet incoming clients and provide comfort to worried pet owners.
Is This Career Right For Me?
Veterinary Assistants must, first and foremost, love animals of
every
kind. Because animals can be stressed in a clinical environment, Veterinary Assistants must be patient, empathetic and adept at reading animal body language. They must always provide humane care, no matter the circumstances. Veterinary Assistants must be able to be around animals in distress and maintain their professionalism at all times. Apart from the clerical, administrative and technical skills they require to perform their duties, Veterinary Assistants must also have excellent interpersonal skills to provide clear instructions to pet owners, to comfort pet owners whose animal companion may not react well during examinations and procedures, and to be compassionate when pet owners face the loss of their animal companion. Veterinary Assistants need to be solutions-driven, logical and be able to detach their personal feelings from an animal's physical condition or its discomfort and anxiety during treatment.
Where Are The Jobs?
Veterinary Assistants are eligible for employment in small or mixed animal veterinary practices, animal day cares, humane societies, or pet care facilities that provide boarding, pet sitting, grooming and/or spa services.