Friday, January 31st, 2014
Aveda Institute's Eco-Friendly Approach to Hairstyling Success
At Aveda, "eco-friendly" isn't just a catchword that's tossed around: the company's commitment to the environment has been in place since its conception. It's the only cosmetics and health company to be 100% wind-powered and in 1989, they were one of the first to sign with the CERES principles, a set of rules for creating products in an earth-conscious way.  In fact, in Aveda's mission statement, attributed to company founder Horst M. Rechelbacher, care and concern for the environment are the first things mentioned.
"Aveda was one of the first companies to be legitimately eco-friendly," says Cindy Chang, national student recruiter for Aveda Institutes & Academy Salons Canada.
With Vancouver on a mission to become the world's greenest city by 2020, Vancouverites who want a career in hairstyling will find Aveda an ideal place to study.
Aveda's far-reaching commitment to the environment
Each Aveda Institute location is carefully selected: they not only adhere to a strict code of environmental friendliness, but also contribute towards maintaining the integrity of the neighbourhoods in which they settle. Aveda's location in historic Gastown is no exception.
"Everything is original to the building," says Chang, and cosmetic changes are always done with the environment in mind. "We use lead-free paint and have lead-free mirrors," she adds.  "Our flooring is bamboo, which regenerates every 3 years as opposed to other woods that take forever to regenerate. We take the environment into consideration in everything we do."

That  commitment also extends to the company's products.
"A lot of people are huge fans of the Aveda brand because it's 99% plant and flower derived," says Chang. "Everything that we do comes from either plants or flowers. For example, alcohol in a lot of cosmetic products is synthetically made; ours comes from a nut. There are three different ways to extract alcohol but this is the method we use.
"Lipstick that you get at the mall have a lot of lead in them. Ours is 100% natural. You can eat the tube of lipstick and be a-okay," she laughs.
Aveda ingredients are obtained from all over the world using fair trade and pay practices, which again ties into the company's mission to give back whenever and wherever possible.
"April is Earth Month, which is something we celebrate here in a big way," says Chang. "All across Canada, we contribute to an organization called Water Can that goes to communities in Eastern Africa to teach about water sanitation and help dig for wells. We do our Walk for Water–a six-kilometre walk at all of our schools and stores for both staff and students. It's quite a spectacle. We walk the six kilometres to signify the distance that women and children in Africa have to walk every single day to get water."
For added incentive, the top two fundraisers go to Africa to do a study tour and see for themselves how their efforts help those local communities. Chang was one of the two winners this year, and will be heading to Ethiopia in April.
Setting students up for long-term goals
Because Aveda has a decidedly unique approach to teaching and learning, Chang admits that the Institute puts prospective students through a more thorough application process than most other schools. "They have to write an essay explaining why they want to be a stylist and why they chose Aveda," she says. "We want to make sure they're aligned with Aveda's mission."
The school offers two levels of hairstyling programs, with educators who mentor and guide students and a curriculum that's heavily focused on career. The Beginner Level program is designed for students who have little or no experience with hairstyling but who are passionate about learning the trade. The advanced Academy Salon program is for those who already completed their diploma but who want intensive six-month training in cut or colour, or twelve months to complete both.
The students not only partake in Aveda's innovative hair program, but they're also introduced to the business side of the industry.
"We keep things very structured so the students graduate with a very strong work ethic. They don't appreciate the strictness when they're here but they get it once they start working in a salon," Chang laughs. "They're on time, they work hard and they're completely professional."
The students also get significantly more hands-on experience at Aveda than at most hairstyling schools. "Our students work on anywhere from 200 to 400 live guests so they have a lot of experience by the time they graduates," she says. "In some other programs, students may work on 7 to 15 guests during the entire program."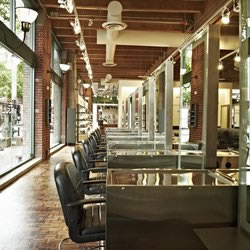 Students are also encouraged to think of their long-term goals. During a project called Sessions Hairstyling, students direct a photo session alongside professional makeup artists and photographers. They can then use the photos in their portfolio.  Another project, Build Your Own Salon, gives them an opportunity to create their dream salon, right down to designing a guest list and price list.
"We're essentially teaching them how to build a business plan," says Chang. "We're all about setting them up for their long-term goals."
A 95 per cent job placement rate
It also explains why Aveda Institute can boast an impressive 95% job placement rate.
"Salon owners come in and it's almost like recruiting for a basketball team: they pre-recruit the students even before they graduate from the program because they know if they wait till the end of the program, our students will all be gone," she says. "I would say that 75% to 85% percent of our students are currently placed while they're still in the program."
Stand-out students from the Advanced Level program are sometimes hand-picked for Aveda's Educator Training program. "It's a bit like teacher's college," says Chang, "except we pay the students to learn to become educators at our Institute."
Because Aveda is an international brand, graduates also have the opportunity to work at one of Aveda's 7,000 locations worldwide. The transition has actually been an easy one for the students who've had that opportunity, thanks to the universal philosophy and standards of Aveda Institutes across the globe. "You can walk into any Aveda salon and it's like family," says Chang. "We all believe in the same things."
Aveda Institute has locations in Vancouver, Victoria, Calgary, Edmonton, Winnipeg, Toronto and Montreal. Please contact the school for more information on program dates for the Beginner and Advanced levels at the Institute nearest you.