Wednesday, October 30th, 2013
Harris Institute Offering $20,000 in Birthday Bursaries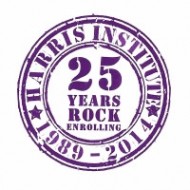 Toronto's Harris Institute is celebrating its 25th year of "Rock Enrolling" by giving away a total of $20,000 in birthday bursaries.
A total of 40 Canadian and International students will each receive a $500 bursary if they enroll for the March 2014 start dates in the following programs:
The one-year Audio Production Program (APP);
The one-year Arts Management Program (AMP); or
The 20-month Music Business Professional (MBP) Double Major (APP and AMP).
Students in the MBP Program also receive the $2,500 MBP bursary and are eligible for direct entry with partial scholarships and accommodation bursaries for a Master's Degree at the University of the West of Scotland. Both the MBP diplomas and the UWS Master's Degree in either Songwriting & Performance or Music: Innovation & Entrepreneurship can be completed in 32 months.
Harris Institute president John Harris expects the bursaries to be allocated by early January.
2013 has been another exceptional year for Harris Institute. The school was named Top Media Art School in January and more recently announced that its AMP program had achieved a 0% Student Loan Default Rate for the sixth time in 8 years.
Three alumni of the Institute are involved in Miley Cyrus' blockbuster hit, "Wrecking Ball": the song's co-writer, Stephan Moccio, is managed by Arts Management Program Honours graduate Jamie Porter; co-writer and co-producer Henry Walter is a graduate of the Audio Production Program; and co-engineer Sven Heidinga was the first recipient of the Music Business Professional Certificate in 2008.
Applications for the March 2014 semester are now being accepted. Interested prospective students can attend one of the upcoming Informational Tours that will be held at the Institute's campus at 118 Sherbourne Street. Tours are scheduled for Wednesday, November 6 at 7PM; Thursday, November 21st at 12:30PM'; and again on Wednesday, December 4th at 7PM. Anyone planning to attend should RSVP by email or by calling the school at 416-367-0178.