Wednesday, January 15th, 2014
Yan Yu: Medical Student, Healthcare Advocate, Rhodes Scholar
The entire application process—from the initial University of Calgary internal selections to the Rhodes selection committee interview—may seem more than a little intimidating, but Yu took it all in stride.
"Being interviewed by a panel is definitely daunting," says Yu. "However, I treated it as just another experience in life, and was able to have fun and interact meaningfully with the panel. The panelists are not trying to get us, so to speak. They are keen to see us succeed just as much as we are."
Currently studying medicine at the University of Calgary, Yu intends to pursue two one-year Master's degrees while at Oxford—one in public policy, the second an MBA. Yu is a committed advocate for improved global healthcare, and the Oxford degrees will allow him to work alongside healthcare professionals and officials to address healthcare problems and better understand the full scope of factors that contribute to patient health.
"It's an incredible honour and opportunity to study at Oxford," he says. "I now have many more opportunities to develop an even bigger toolbox of skills, for me to help improve societal health as a future physician, educator, and advocate.  The ideas I will be exposed to, and the people that I will meet there, will no doubt be inspiring, to say the least."
The added bonus of studying in England?
"It'll allow me to further refine my British accent," he jokes.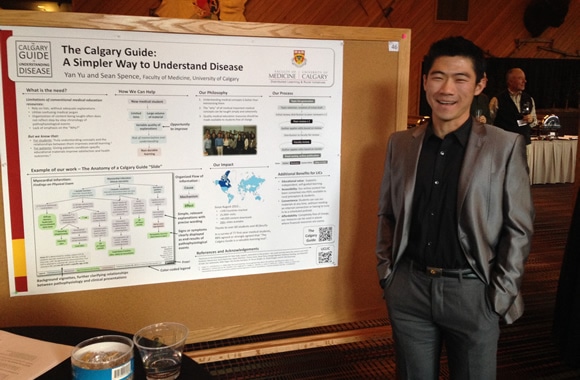 Set to graduate from the Faculty of Medicine this year, Yu already boasts an impressive résumé.
He founded the Calgary Guide to Understanding Disease, a a medical education tool that aims to provide medical students and healthcare professional with "easily understood explanations for complex medical topics," says Yu. "When we made the Guide, we knew there was a need, and that students would be using it." The Guide has thus far been downloaded more than 50,000 times in over 100 countries.
"Although I founded the project, currently I'm involved with the Guide as an adviser only," Yu continues. "I believe in involving as many fellow medical students in this project as possible, and inspiring them to make this project their own. I train and advise them on how to make content, and how to lead people. They're usually much better at this than I am, so my job is easy! This way, there will be good people to continue coordinating the project even when I'm no longer a medical student in Calgary, and ultimately that's what matters in any organization: finding and retaining good people, and helping them become even better."
Yu also acts as a peer listener for fellow medical students in distress and acted as chair of the Medical School Political Advocacy Committee.
For Yu, being awarded a Rhodes Scholarship is a bit of a fantasy come true.
"When I first looked into applying for the Rhodes scholarship, I checked out their website, which showed photos of current Rhodes Scholars, looking very grand," he says. "I remember wondering if I could ever be on that website myself. That was quite a few years ago. I remember putting aside my dreams of grandeur, and just focusing on doing what I love doing which for me, that is biology, and medicine."
Yu remains focused on a bigger picture that includes the things most important to him.
"Like all physicians, my main goal is to improve the health of as many people as possible, and that goal hasn't changed," says Yu. "When I finish my two years at Oxford, I will take what I learned back to Canada and complete my residency in family medicine. Where I will go from there is still up in the air. It really depends on the opportunities that are open at that time and where I can make the greatest impact."
Yu advises all students to focus on what they love to do and use their talents to make a difference.
"We all have unique talents, unique actions, and unique ways in which we can contribute to society," he says. "I would encourage everyone to do what they love. I know it's cliché but it's true. It's important to see that there is more than one path to success, and that success is defined differently by different people. Overall, as long as you're happy with life, and have made positive contributions to the world, I'd say that it is a life well lived."
There's good reason to be impressed when you hear that someone has been awarded a Rhodes scholarship: A mere 83 students are selected each year for the scholarship. Of those, only eleven are chosen from across Canada, and only three are awarded to postgraduate students from Western Canada. For University of Calgary medical student Yan Yu, being a Rhodes Scholar means joining the prestigious ranks of postgraduate students who will have their travel, living and study expenses covered while attending Oxford University in Oxford, England.