Monday, January 21st, 2013
College Student Alliance Announces Scholarship Winners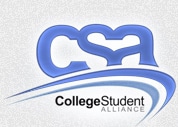 The College Student Alliance (CSA) recently announced the winners of the third annual CSA Leadership Scholarship. The recipients will each receive a financial award of $1,000.00 from the CSA, as well as a certificate and a letter of recognition.
"I congratulate this year's recipients and I am proud to recognize their dedication to their colleges and communities," said Ciara Byrne, President of the College Student Alliance.
The winners were:
Sumel Kanuga, Centennial College Student Association Inc.
Samantha Clark, Conestoga Students Incorporated
Roxanne Swarbick, Student Union Confederation College Inc.
Keerththana Kananathan, Your Student Association Durham College
Nadine Meek, Fanshawe Student Union
Mitzi Young, Fleming College Student Administrative Council
Kaytlyn Blanchard, Georgian College Students' Administrative Council (Orillia)
Erika Barratt, Humber Students' Federation
Emily Glover, Northern College Student Association – Haileybury Campus
Madison Davis, Student Administrative Council – St. Lawrence Brockville
Raymond Trecartin, Sault College Students' Union
"We will continue to support student leaders across Ontario through this scholarship for years to come," said Byrne.
The scholarship recognizes up to 15 outstanding leaders across Ontario who have demonstrated exceptional work on campus and in their community.