Thursday, September 13th, 2012
Metalworks Institute Hosts First Annual International Drum Festival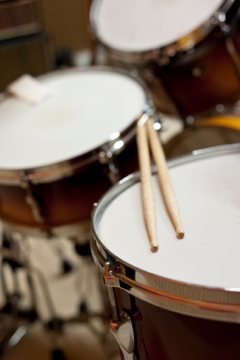 Warning, things might get loud. Toronto's famed music school, Metalworks Institute, is hosting their first annual international drum festival.
The event will take place September 22, 2012 from 10:00AM to 8:00PM, at Metalworks' Mississauga facility. There will be a number of drumming clinics from seasoned music industry veterans, all completely free of charge.
There will be full drum clinics by:
Gavin Harrison (Porcupine Tree)
Chris Sutherland (Kim Mitchell, Doc Walker, Metalworks Institute Faculty)
Dave Patel (Sixteen Different Minds, Kellylee Evans, Ian Crichton, Metalworks Institute Faculty)
Chris Lesso (Modus Factor, Wild T and the Spirit, Metalworks Institute Faculty)
Craig Hunter (Philosopher Kings, Metalworks Institute Faculty)
Altaf "Bwana Moto" Vellani (Jane Bunnett, Hamid Baroudi, Dr.John)
Metalworks Institute brings together the best classes and seminars in the area to teach music students how to succeed on stage or behind the scenes. They have been recognized an unprecedented 11 consecutive years as "Recording Studio Of The Year" at the CMW Canadian Music Industry Awards.
The first annual Metalworks Institute International Drum Festival will also feature:
Drum Recording Workshops in the legendary Metalworks Studios with Producer /Engineer Alf Annibalini (Nelly Furtado, The Tea Party, The Trews, Our Lady Peace, Blue Rodeo, Amanda Marshall, Big Sugar, Saukrates, Leanne Rimes, I Mother Earth)
Rudimental Master Classes with special guests to be announced soon.
Interactive Product Displays with company reps on hand.
Meet & Greet Autograph sessions with artists and a special "Legends" Autograph session
Live interviews and Q&A with Industry experts to be announced soon.
Loads of Prizes & Giveaways
Schools mentioned: Metalworks Institute