Friday, August 3rd, 2012
SPC Card Adds 13 More Retailers to Student Discounts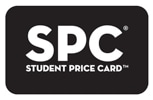 The 2012/13 SPC Card was unveiled this week, with some new popular stores participating, including American Apparel, Bath & Body Works, Express, Forever 21, Mr. Sub, Urban Outfitters and Wind Mobile.
"With a tough job market and high costs for students, it's becoming more important than ever for young people and their parents to find the best deals around," said SPC Card President, Dean Mazzariol.
Overall, the card is accepted at over 100 participating retail chains like Aeropostale, American Eagle Outfitters, The Body Shop, Bluenotes, Foot Locker, Gap, Jack Astor's and Rexall Pharma Plus.It remains Canada's most popular student loyalty program with over 1,100,000 members.
"Consumers are increasingly careful when spending money and we're working our hardest to offer students deals at the stores they go to all the time."
This year, Canada's #1 student loyalty program has also boosted their social media presence, with new channels on Facebook, Twitter and Pinterest.
"We really want to engage with our members and show them that we care about what they need," said Jordana Levine, SPC Card's new digital editor. "It's important (to) start having real conversations with them, rather than just giving them information, and social media is the best way to do that."