Thursday, January 26th, 2012
Ontario Universities Celebrate Teaching Innovation with "Back to Class" Events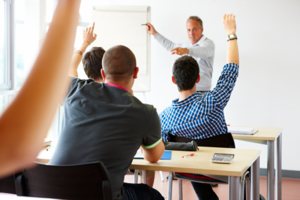 Ontario's Universities are celebrating and showcasing ground-breaking teaching methods by going "Back to Class."
Over the next few months, universities will invite award-winning teachers and community leaders from all levels of government and business back to school to discuss teaching in our universities.
"The hallmarks of effective teaching are the ability to inspire students with a passion for their subject and for life-long learning," said Alastair Summerlee, Chair of the Council of Ontario Universities (COU) and President of the University of Guelph.
"These events will highlight effective teaching and demonstrate the passion that effective teachers have to inspire student learning and acquire the critical thinking skills necessary for the job challenges of today and for the jobs that haven't even been invented yet."
The events will seek to show off some of the latest technology and unique methods that universities are using to improve the student experience.
There will also be conferences, symposiums, and lectures that will discuss how to improve student engagement and inspire life-long learning.
"University education enriches the lives of students in many ways and the Back to Class project will be a demonstration of the integral role that well-chosen teaching methods play in a student's university experience," said Bonnie M. Patterson, COU President and CEO.