Thursday, March 10th, 2011
Winners Announced for OACC Contest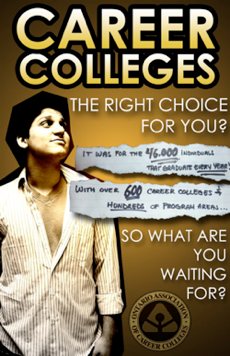 The judges have deliberated and the results are in. The Ontario Association of Career Colleges have selected 3 winners for their Career College Challenge: High School Edition.
Entrants were challenged to use a poster or 30-second commercial to say why Ontario's registered private career colleges are a good option for post-secondary education, with the winners taking home an Apple iPad or iPod Touch.
Cynthia Liu of Markham won Best Overall and earned a 16 GB Apple iPad. She is a Richmond Green Secondary School student and impressed the judges with her poster, called "The Right Choice For You?" She won points for the look of her poster and the real facts she utilized.
Michal Ulman of St. Francis Xavier Secondary School won an 8 GB Apple iPod Touch for winning the Best Video category. He impressed the judges with awesome music and eye-catching visuals.
Elaine Yuan earned herself an 8 GB Apple iPod Touch for winning the best poster category. Yuan goes to Sir John A. Macdonald Collegiate Institute in Toronto and used a combination of hand drawn and digital techniques to sell the benefits of career colleges.