Wednesday, April 30th, 2014
Sprott Shaw Offering $1000 Towards Tuition This Spring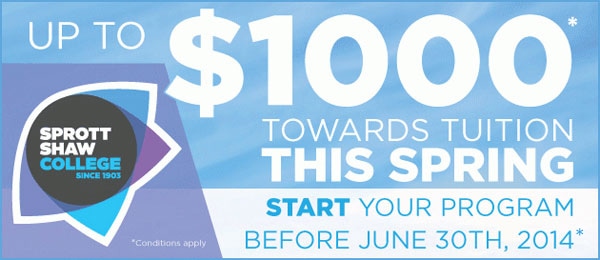 Spring has sprung and new life is sprouting up everywhere. This season of rejuvenation and new beginnings is a great time to assess your goals. If you're itching to get back to the classroom to upgrade your skills or if you're ready to make a career change, there's no time like the present. That's why Sprott Shaw College is offering a $1000 grant towards the cost of tuition if you start your program before June 30, 2014.
A lot of us make worthy resolutions as we start a new year. But it's usually not until we emerge from the cold, dark winter that we find the motivation and energy to follow through on many of them. If one of your goals is to improve your employment situation or to find a definite path in your career, taking a college course can make that happen. If another one of your resolutions is to save money, Sprott Shaw's $1000 tuition grant can help make a good education financially feasible. Other forms of financial aid may also be available to students.
Enrolment at any of Sprott Shaw's 13 college campuses between April 16 and June 30, 2014 will make you eligible for this tuition offer. The grant will be awarded upon graduation of your program at Sprott Shaw College.
Whether you're looking for that competitive edge in the world of business or you want to make a difference in the lives of others by working in the field of health care, there's a course for you. If the high-paced industry of Tourism and Hospitality attracts you, or if you have your heart set on becoming a certified Construction Electrician Apprentice, you'll find a program to help you reach your goals. And you'll also cash in on tuition savings with Sprott Shaw's $1000 tuition grant as you embark on a path of personal and professional growth this spring.