Tuesday, December 10th, 2013
Kindred Entrepreneurial Spirits Open North Van's First Aveda Concept Salon
Annalisa Sidonio has always had an entrepreneurial spirit. Her father, an entrepreneur himself, lit that fire and kept it going by being Sidonio's biggest supporter and inspiration. All she needed was the perfect idea for a business and the plan to put it in place.
"I always knew I wanted to be in business," says Sidonio. "I wasn't sure how I would get there until I started doing hair, and then I knew right away that this would be my business."
Meanwhile, on Salt Spring Island, stylist Casey Mckerrell's own fire was being kindled by the owner of the Aveda salon where she was working at the time—a woman described as a "fantastic hairstylist and an inspiring mentor."
It seemed almost fateful for the two women's paths to cross when they both worked at a Vancouver Aveda salon on Robson Street. In Mckerrell, Sidonio found a kindred spirit—someone who shared her ambitious vision for an eco-friendly, environmentally responsible salon that would give clients an unparalleled beauty experience. A mere four years after graduating from the Aveda Academy in Vancouver, Sidonio and Mckerrell are now proud owners of Raw Hair Lounge, the only Aveda Concept Salon in North Vancouver.
"Owning our own salon was something that both Casey and I had wanted to do before even meeting each other or studying at the Aveda Academy," says Sidonio. "We had the support from management and the Aveda Partners once we let them know that it was our dream and that we had a business plan in order.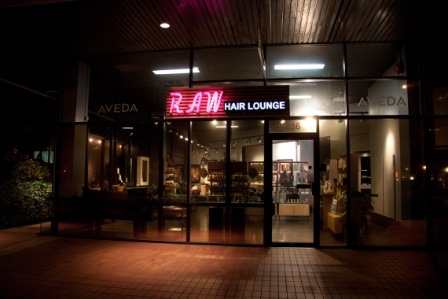 Located at 236 West Esplanade, Raw Hair Lounge is just a short walk from beautiful Lonsdale Quay—a prime location with a talented team that's receiving nothing but glowing reviews from new and regular clients alike.
"Our goal for Raw Hair Lounge was to have a space that was welcoming, environmentally friendly and comfortable for our guests," says Sidonio. "To have a high level of customer service and make sure that absolutely no one leaves unhappy. I feel that our vision is definitely a reality. We are so thrilled to go to work every day and have such an amazing team to work with and such fantastic guests."
Raw Hair Lounge is aligned with Aveda's mission and stylists are all professionally trained Aveda stylists. A stylist not trained at the Academy has to be willing to learn and take Aveda classes so that all the stylists at Raw Hair use the same techniques and practice the same relaxing rituals.
"It's very important to both Casey and I that our guests can see any one of our stylists and receive a consistent experience," says Sidonio. "That way if their regular stylist is fully booked they can get in with someone else and feel confident in the result and experience."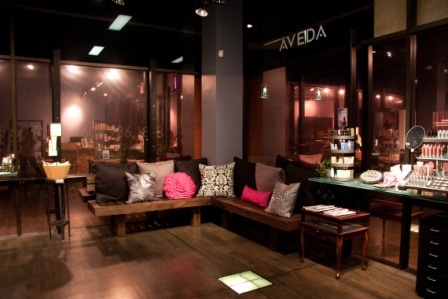 Also important to Sidonio and Mckerrell is making a commitment to the environment. They use only Aveda products, citing the fact that these products are 89 to 99 per cent naturally derived and come in containers that are made from 80 to 95 per cent post-consumer recycled materials. They also joined GreenCircle Salons, an organization that's committed to making the Canadian salon industry sustainable by 2020.
Because of these initiatives and a genuine commitment to the planet, Raw Hair Lounge now recycles 95 per cent of their waste—everything from used foils (they're melted down and re-purposed) to the water that carries residual colour after hair has been rinsed (it's collected in a bucket and taken away to have chemicals removed). Even cut hair is recycled!
Her advice to fellow entrepreneurs: follow your heart. "There is nothing more satisfying than doing what you love and seeing how you and your business grow together," she says. On the more practical side, she adds, "Do lots of market research and have good people that you trust and that support you."
Sidonio and Mckerrell are now reaping the rewards of their hard work and planning, and are thrilled to be staying true to that drive to be their own boss.
"The biggest reward of owning our own business, I would say, is seeing our staff grow from beginner stylists into such wonderful, skilled hair stylists and the passion they have for their jobs, as well as the joy of seeing our business grow and expand," Sidonio says. "It's truly the best job ever!"
If you want to have a unique styling experience, visit the Raw Hair Lounge website. Anyone interested in attending the Aveda Institute & Academy Salon, the Vancouver campus is still accepting enrolments for the January 2014 semester.