Friday, June 14th, 2013
Confederation College to Offer Three New Programs In the Fall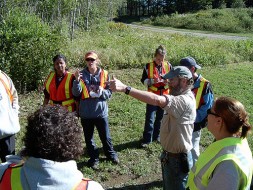 Confederation College director Anne Renaud has announced registration is already underway for  three new programs that will be offered in September.
The college's Developmental Services Worker program was offered in the past, but a new-found need for qualified workers led the college to offer the program again.
Renaud explains that campuses were getting phone calls from Community Living associations, looking for recruits.
 "They have positions available that they cannot fill because they don't have qualified people applying," says Renaud. The demand for Developmental Services Workers is expected to continue growing, and the Confederation College program will help meet the demands and fill the void in this segment of the healthcare industry.
Graduates of the program will work with children and adults with a disability, says Renaud, often a physical, mental or developmental one.
The second program, Tourism – Travel and Eco-Adventure, will be offered for the first time. The course will be taught via distance learning to students in
The course will be taught via distance education to students in the Ontario towns of Fort Frances, Thunder Bay, Kenora, and Dryden.
The program offers "lots of opportunity for travel and to find out about the different types of careers you can have in that industry," says Renaud, including "flight attendant, travel agent, or business owner."
The final program being offered for the first time in the fall is the Environmental Technician program. The first year of the program is taught at Confederation, with students transferring to Thunder Bay to complete the second year.
 "At the beginning of the semester, there is a two-week field school," says Renaud. "Every day they go out into the bush and learn different things, and start their plant collection. They have to do a collection throughout the whole semester and they get a lot of their samples in field school."
All programs are two-year Ontario Colleges diploma programs.
Colleges mentioned: Confederation College