Tuesday, June 4th, 2013
Broadcast Association of Canada Awards Highest Audio Honour to Confederation College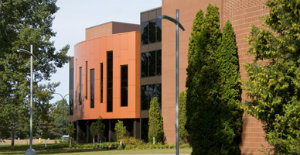 Confederation College was awarded the highest honour in the audio category at the recent Broadcast Educators Association of Canada (BEAC) awards ceremony held in Banff, Alberta.
The college was recognized with first-place standing in three categories, and was awarded the President's Award in the category of Audio PSA.
"President's Awards are selected from all the winners," says Michele McManus, Coordinator of the Broadcasting program in Thunder Bay.  "They are truly the best of the best and we are very pleased that in the first year of operating our web station, we have been recognized in the audio category."
BEAC is a national organization that promotes excellence in media education.
The award-wining public service announcement, "Noise Pollution," was created by Confederation College student Curtis Gee. Gee credits the college's new facilities and the broadcasting program with giving him the motivation and support to create the PSA.
"Working in the newest facilities with the latest technology and combined with the dedication of the faculty, really supports a student to do their best," says Gee.
"We can't be more proud of our students, our faculty and our facility," says Dean Gail Murdock.  "We are truly a best practice and example for the national calibre work that can come from small markets."
The Confederation College winners include:
"A Gift of Laughter," which won for Best Student Documentary and tells the story of Confederation student David Morrow, who has Down Syndrome and, with his exuberance and humour, has become one of the College's most popular students.
"Sheets Ahead," a documentary about the College's homage to the tv show Community, which included building a large blanket fort that took on a bit of a life of its own.
"Noise Pollution," Gee's public service announcement on the effects of noise on daily living.
Colleges mentioned: Confederation College