Wednesday, May 29th, 2013
Crohn's and Colitis Foundation Announces New Scholarship for IBD Suffers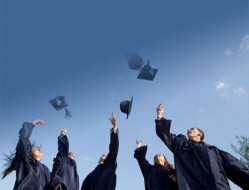 Canadians who have been diagnosed with inflammatory bowel disease (IBD) are now eligible to apply for one of seven $5,000 scholarships that are designed to encourage students who have been diagnosed with the illness to pursue their post-secondary education.
The Crohn's and Colitis Foundation of Canada (CCFC) is offering the one-time scholarships through a grant from biopharmaceutical company AbbVie.
"Due to the isolating nature of the disease, people living with IBD too often miss out on the great life experiences many of us take for granted, including completing their education," says Dr. Kevin Glasgow, CEO of the CCFC.
"The AbbVie IBD Scholarship was born of the desire to support students with Crohn's and colitis and help empower them to continue their education and excel to their fullest potential."
Inflammatory bowel disease is a group of disorders that causes the intestines to become inflamed and ulcerated due to an abnormal response of the body's immune system. Many IBD sufferers postpone their post-secondary education or have their studies because the disease often requires intensive medical treatments and lengthy hospital stays and causes often debilitating symptoms.
According to the CCFC, the scholarships will be awarded to students who "strive to sustain an optimal level of wellness allowing them to excel while inspiring others to do the same." Students of any age are eligible, and the scholarships can be used towards post-secondary studies at any Canadian institution. Students already pursuing their post-secondary studies are eligible to apply as well. Students must be legal and permanent residents of Canada and have been diagnosed with inflammatory bowel disease by a physician.
The deadline to apply is June 30. Visit the CCFC's information page for more details about the scholarship.