Sunday, April 14th, 2013
Sprott Shaw Student Refuses to Let Cancer Stop Him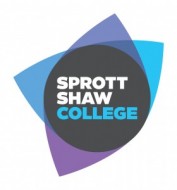 Andy went back to school for a life changing experience. He had no idea how much his life would change.
Andy went back as a mature student, to study practical nursing and find a better career. It was a brave move to sit among kids that were "half my age." However, his bravery was about to be really tested.
"We were discussing cancer in class," said Andy.
"I decided that I had some of the symptoms…Just at the end of the school semester, before our practicums, I was diagnosed with Stage 3 colon cancer."
This is where most people's academic story would end, but not Andy. He thought long and hard about it, then decided to continue his studies, with the help of Sprott Shaw instructors.
"With a lot of guidance and help from the teachers, I decided to go ahead with the program, and managed to make it to graduation."
His determination paid off, as he soldiered through his studies and treatments. Not only did he graduate, he was named valedictorian for his class.
Most importantly, he is now living cancer-free and things are looking great. He had no trouble finding a job after graduation.
"I finally had the confidence to apply for work; I had two interviews in one day and, before the interviews ended, was offered two jobs. I started yesterday."
Schools mentioned: Sprott Shaw College