Tuesday, April 9th, 2013
Canada's Students Take Part in The 30 Hour Famine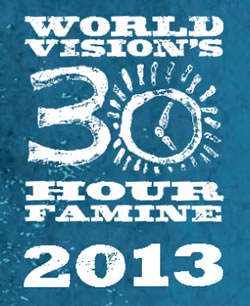 Canada's starving students are going to go even hungrier for 30 hours in support of a good cause.
Throughout April ,The 30 Hour Famine will see Canadian college and university students sacrificing to raise awareness of global poverty.
"I love doing the Famine. We sacrifice something for 30 hours, really we have a lot we can give up, and at the same time help provide hope to kids around the world. And I'm proud to be part of this. It makes me feel like I'm part of something larger, something important," said Mumtahin Monzoor, student and World Vision Youth Ambassador
The 30 Hour Famine is the largest youth fundraiser in the world. This year, they've introduced several new wrinkles. This year students can choose what they give up. Traditionally this has meant food but now they can also starve themselves from their cell phones, furniture or TV for 30 hours.
Their work will go to support some amazing causes like bringing potable water in Mauritania, preventing child abuse in Sri Lanka, early childhood education in El Salvador and helping at-risk youth in Canada.
The 30 Hour Famine is presented by World Vision, a leading Christian relief, development and advocacy organization dedicated to working with children, families and communities to overcome poverty and injustice.