Wednesday, March 6th, 2013
Half Court Shot Wins Manitoba Student Free Tuition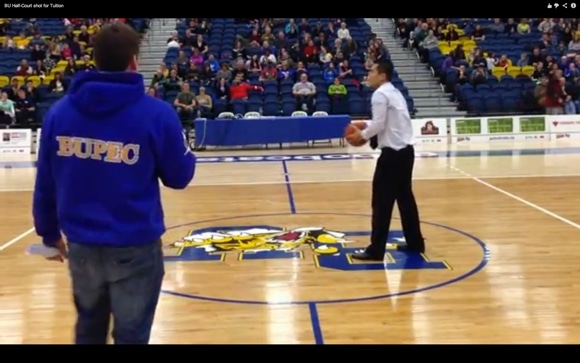 It's fitting that physical education student Mason Kaluzniak won free tuition in a gym. Last week, the Brandon University student won free tuition for a semester when his former teacher drained a long range shot from half court.
The half-court-heave promotions are a staple of basketball games at all levels these days. Brandon University's version put up a semester of free school on the line. After being pulled from the stands, Kaluzniak picked The Brandon University Bobcats' basketball coach, Gil Cheung, who's also one of his former teachers.
"He looked in our bench's direction and I jokingly said, 'Pick me!' " said Cheung. "The toughest part was seeing how I can shoot with a suit on."
After the shot went in, the Bobcat players celebrated like they just won a championship.
The school's promotion is a bit different than most, in that it gives you the option to have a school player shoot (or coach) the shot for you.
"As soon as we told them we were giving students the option, the men's team just automatically started horsing around, practicing the half-court shot," said Brandon sports information director Matt Packwood.
"Ilarion Bonhomme, our second-year guard, made three in a row and I was thinking, 'Okay, it's going to happen.' A couple other guys made a few."
The Bobcats went on to win the game 74-68.