Monday, February 25th, 2013
Ontario's Students Call On Kathleen Wynne for Lower Tuition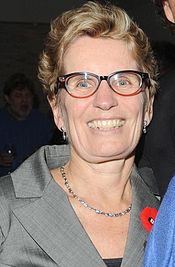 Ontario's students are calling on Ontario's new Premier, Kathleen Wynne, for affordable college and university tuition.
The Canadian Federation of Students (CFS) have asked Premier Wynne to do more for Ontario's students than her predecessor did.
"Under Dalton McGuinty's watch, tuition fees have increased to record high levels, leaving students in Ontario paying the highest fees in the country," said Sarah Jayne King, Chairperson of the Canadian Federation of Students-Ontario.
"It's time for the Liberal government to turn a new page on tuition fee policy and work to remove the financial barriers to accessing post-secondary education in this province."
The CFS have asked Wynne to establish a new tuition fee framework that cuts tuition fees for all students, as the current "Reaching Higher" framework is poised to expire in the fall of 2012
Last week, they released "Changing Priorities: Moving Towards Affordable Post-Secondary Education."
The report recommends the government implements a multi-year tuition fee framework that they claim will:
Reduce tuition fees by 30 per cent over three years
Establish a long-term plan to progressively eliminate tuition fees
Ensure that tuition fee billing policies and practices are fair for students
"Investing in post-secondary education and building a healthy economy is a matter of priorities," said King.
"The provincial government has the capacity to make universal, publicly-funded college and university education a reality. To start, the Premier should make good on the Liberal election commitment and truly reduce tuition fees by 30 per cent for all students."