Wednesday, February 6th, 2013
Half US College Grads Have Jobs That Don't Need Degree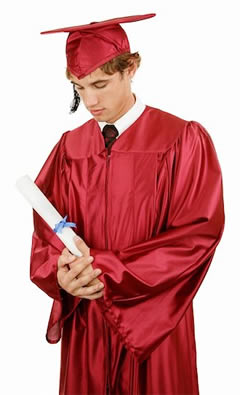 In Canada, the numbers point to a degree leading to a better job. However, south of the boarder, The US college grads are having a tough time.
A recent study reveals that about half of Americans that graduated college are currently working a job that doesn't require a degree.
The study, called Why Are Recent College Graduates Underemployed (PDF), reveals that about 48 percent of employed U.S. college graduates are in jobs that the Bureau of Labor Statistics (BLS) suggests requires less than a four-year college education.
"We suggest that this problem is more pronounced today than in the past, though it is assuredly true that during the past several decades, a small number of writers and researchers have noted it," said the study.
"It puts meat on the bones of those, including ourselves, who argue that we might well be over- credentialing the population through formal education programs. Indeed, it can be argued that we may well be 'over–invested' in higher education."
The study also found that 11 per cent of employed college graduates are in occupations requiring more than a high-school diploma but less than a bachelor's, and 37 per cent are in occupations requiring no more than a high-school diploma.