Wednesday, January 30th, 2013
Students Support First Nations Canadians and Idle No More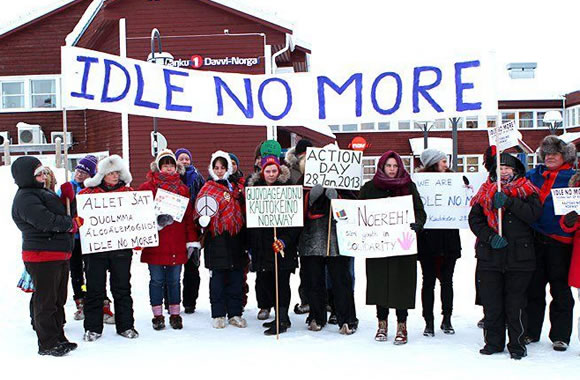 The Canadian Federation of Students-BC (CFS-BC). joined demonstrations this week at the Legislature to support the Idle No More movement.
"In Canada only 8% of the Aboriginal persons hold a university degree compared to 23% of non-Aboriginal peoples," said Megan Marshall, Aboriginal Students' Liaison of the CFS-BC. "Access to education is just one example of the many challenges Aboriginal peoples in Canada face."
The Idle No More movement calls on the federal government to honour Aboriginal treaty rights, including the right to self-govern. This week, student representatives from Douglas Students' Union, Students' Union of Vancouver Community College, Emily Carr Students' Union, Vancouver Island University Students' Union, and Camosun College Students' Society joined the rally in support of First Nations Canadians.
"The Canadian Federation of Students-BC recognizes the right to self-determination of all First Nations, Inuit, and Métis peoples in Canada," said Katie Marocchi, Chairperson of the Canadian Federation of Students-BC
"Legislation such as Bill C-45 undermines Aboriginal and treaty rights and should be condemned."
"We are proud to be supporting such an important movement," said Madison Paradis-Woodman, Aboriginal Liaison at the Douglas Students' Union.
"The best way for people support the Idle No More movement is through education, action, and challenging racism."