Tuesday, January 8th, 2013
Newman Theological College Grad Becomes Canada's First Deaf Priest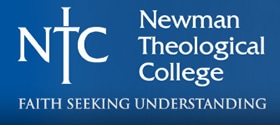 Matthew Hysell's journey is an inspiration to anyone who is hearing impaired or living with disabilities of any kind. Last month, he became the first hearing impaired person to be become a priest in Canada.
"It is with some trepidation that I find myself in this position. Honestly, I think this is more about the church than it is about individual achievement, said Hysell. "It is a signal of the solidarity the church feels for people who live in a world of silence."
At age 35, Hysell was ordained in December at St. Joseph's Basilica. He will minister to Catholics with hearing impairments, while also serving as a parish priest at St. Thomas Church in Mill Woods.
Hysell effectively lost his hearing when he was eighteen months old, after a very serious case of meningitis. He has since learned to become an expert lip reader and speaks exceptionally clearly thanks to speech classes and sitting beside his mother and reciting random words from a dictionary growing up.
"She didn't want me to be deprived of being able to communicate," said Hysell.
Hysell was raised in a Baptist family in Michigan until the age of 13, when he learned about priests in school. He later converted to Catholicism at age 16 and began his journey.
Schools mentioned: Newman Theological College