Friday, December 21st, 2012
Montreal Animation Students Punk Us With Child Snatching Eagle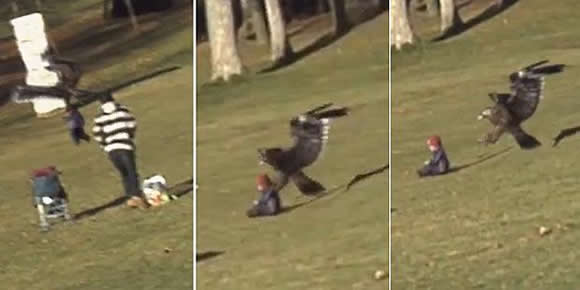 You saw it and gasped. You probably even retweeted it. Over the last week, if you're on Facebook you probably watched a video of a giant eagle swooping down and grabbing a baby. Nearly everyone who saw it echoed the voice in the video that cries "Holy S#@&!"
Well you were punked.
The video is the work of 3 crafty animation students from Montreal's Centre NAD. Normand Archambault, Loïc Mireault and Félix Marquis-Poulin have come forward to claim responsibility for the video. How do you say "gotcha" in French?
"We brainstormed some ideas of what is viral online," Archambault told CBC. "Everything that is animal related and baby related are super popular so we tried to bring both together and make something extraordinary that wouldn't happen every day."
The overnight sensation actually took over 400 hours to create.
The school awards a perfect score to any video that earns more than 100,000 views online. The 5 million views that the video earned in the very first day would be enough for 50 perfect scores.
Canada has been twice fooled by Quebecers in 7 days. Earlier this week, many Canadians were led to believe that a fake story about the province passing a law surrounding bilingual dog commands was the real deal.