Friday, September 28th, 2012
120,000 Parents and Students Expected at Ontario Universities' Fair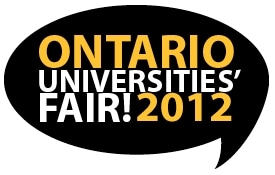 Not sure where you want to go to university yet? You're not alone. Over 120,000 parents and students are expected to flock to this weekend's Ontario Universities' Fair (OUF) in Toronto.
The fair will be held at the Metro Toronto Convention Centre from Friday, Sept. 28 to Sunday, Sept. 30.
"Universities have been collaborating on initiatives that prepare students for their university decision making since 1971, when they agreed to set up the Ontario Universities' Application Centre (OUAC), now recognized worldwide as one of the largest and most successful centres for processing university applications," said Alastair Summerlee, Chair of the Council of Ontario Universities (COU) and President and Vice-Chancellor of the University of Guelph.
"The university fair, information program and eINFO are all activities organized by OUAC for the benefit of students contemplating university education."
The event will give young people and parents a chance to speak with Ontario university representatives about programs, extracurricular activities and campus life.
Some of the schools attending the fair include:
Algoma University
Brock University
Carleton University
University of Guelph
Lakehead University
Laurentian University
McMaster University
Nipissing University
OCAD University
University of Ottawa
Queen's University
Royal Military College of Canada
Ryerson University
University of Toronto
Trent University
University of Ontario Institute of Technology
University of Waterloo
Western University
Wilfrid Laurier University
University of Windsor
York University