Friday, September 21st, 2012
Trebas Alumni Includes 12 Grammy Winners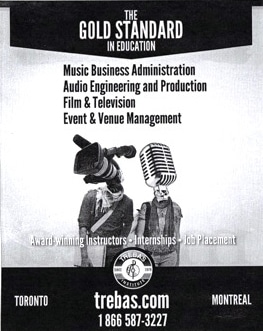 In their 30 years of operation, Trebas Institute has trained countless students how to succeed in the music industry. Along the way, their graduates have been recognized with the prestigious Grammy award on 12 different occasions.
Trebas grads are found everywhere in the music industry, like music business, artist management, concert production and promotion, music publishing, licensing, song writing, record producing, engineering and mixing music for film, television, video games, and the music biz.
"Our success and that of our graduates is due, in large part, to the fact that we anticipate industry trends and constantly upgrade our courses to meet the current challenges and future needs of the music, film, television, and video game industries we serve," said David P. Leonard, President/CEO/Founder/Imaginator of Trebas. Leonard is also a founding Director and Past President of the Music & Entertainment Industry Educators Association.
Some of the graduates who have been recognized include:
Michael Piersante, won for recording and mixing the Robert Plant and Alison Krauss Record of the Year and Album of the Year (2009) "Raising Sand."
Piersante was also honored with the Grammy for Alison Krauss & Union Station's "O Brother, Where Art Thou?
Jeremy Harding, artist manager/producer/songwriter/ publisher/recording engineer, won the Grammy for his artist Sean Paul.
Trebas graduates have also garnered acclaim elsewhere. Nick Jarjour, is partner with producer/songwriter Henry Walter in his music publishing firm, Cirkut, which currently has a Billboard number one hit song for Katy Perry "Wide Awake", as well as "Part of Me" and "Where Have You Been." Elsewhere, Noah "40" Shebib, is a songwriter and engineer/producer with recent hits by Drake, Rihanna, Lil Wayne, and Nicki Minaj.
Schools mentioned: Trebas Institute