Tuesday, September 18th, 2012
Ontario Students Demand Lower Tuition and Higher Quality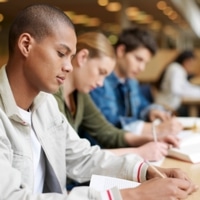 The students of Ontario have simple demands: Lower tuition and higher quality education.
"Students in Ontario pay the highest fees in the country, are taking on record levels of debt and sit in the largest classes in Canada, but the government is refusing to tackle student debt or underfunding at colleges and university in this process," said Sarah Jayne King, Chairperson of the Canadian Federation of Students-Ontario.
"Today, students are sending a clear message to government: focus on dropping fees for all students and ensuring that the Ontario colleges and universities are able to offer students a high quality education."
Statistics Canada recently released numbers that show that students in Ontario are paying the highest tuition fees in Canada, for the fourth year in a row. Their data also reveals that per-student funding for colleges and universities in Ontario is also the lowest in the country resulting in the largest student-faculty ratios.
"Record high tuition fees continue to put college and university out of reach for many willing and qualified Ontarians," said King.
"Students will continue to advocate for their vision of a more equitable system where all Ontarians can access a high quality, affordable, public post-secondary education."