Wednesday, July 25th, 2012
Ontario's Canadore College adds Dog To Student Residence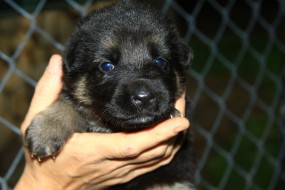 Students at North Bay's Canadore College can't bring their dogs from home, but they can share the community dog.
The school has added a mental health and wellness dog, in an attempt to keep student morale high and student stress low.
"We are excited to be among the first Canadian colleges to open our doors to a therapy dog," said Shawn Chorney, Vice-President of Student Services.

"The UK has had tremendous success with therapy animals in school settings, from reducing stress levels to diffusing crises."
Colleges and Universities all over the world have started to experiment with bringing dogs onto their campus to bring up morale.
"You can release some of the emotions to a pet that you can't to a human. A pet keeps it confidential," said Harvard University Researcher, Loise Francisco-Anderson in a story published by USA Today.
She received permission to bring her shih tzu, Cooper, to campus after her husband read that Yale Law School had a therapy dog on campus named Monty.
"You don't have to worry about someone else saying, 'Oh, I think she's having a nervous breakdown over the science exam,'" said Francisco-Anderson.
Schools mentioned: Canadore College