Thursday, June 28th, 2012
Calgary's DeVry Institute of Technology Adds Business Administration Diploma Program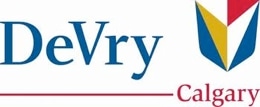 The DeVry Institute of Technology recently announced that Alberta Enterprise and Advanced Education has given them the green light to offer a new Diploma in Business Administration program.
The Alberta Coalition for Action on Labour Shortages says the province will face a labour shortage of 114,000 workers over the next decade. DeVry's new program is designed to meet that labour shortfall.
"Industries in Alberta are facing a labour crisis and need highly trained employees to fill positions right away," said Sid Mark, president of the Calgary staffing and recruiting firm FRIDAY Professional Group Inc.
"We're excited that DeVry is introducing a new diploma program that gives graduates the general skills they need to begin a career as soon as possible."
The new program will officially begin in September and students can earn a diploma in 10 months.
"Beyond getting students into the workforce quickly, the new diploma program opens up pathways to further education," said Ranil Herath, president of DeVry Institute of Technology.
"Students have the ability to apply select credits from their diploma programs towards continued education in a bachelor's degree program here at DeVry and at other Alberta institutions that are part of the Alberta Council on Admissions and Transfer's (ACAT)."
Schools mentioned: DeVry Institute of Technology