Wednesday, June 13th, 2012
Can Your Astrological Sign Dictate What You Study in College or University?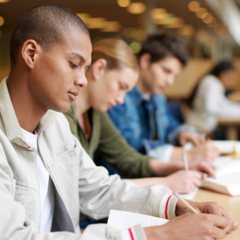 They say astrological signs dictate your personality type and traits. So can we use that information to find a good career for you?
Here's a list of astrological signs and traits, matched with areas of study that might be good for you.
Aries
You are: vibrant, enthusiastic, and competitive
Career options: You might do well in the bonus and commission driven world of sales.
Study: The Sales Personal Program at Academy of Learning Career and Business College.
Taurus
You are: Stable and reliable.
Career options: They also typically enjoy working with food, so consider becoming a chef
Study: Culinary programs at:
Gemini
You are: Always in need of intellectual stimulation.
Career Options: Somewhere in the arts, where you're always doing something creative.
Study: Anything at
Cancer
You are: Sensitive and nurturing
Career options: Being a personal support worker might be ideal for your helping nature.
Study: The Personal Support Worker program at:
Leo
You are: Always thriving in the spotlight and creative.
Career options: Fashion designer might be the right outlet for your creativity.
Study: Fashion design at schools like:
Virgo
You are: A perfectionist and detail-oriented.
Career options: You might do well overseeing details as an event planner.
Study: Event Management at schools like:
Libra
You are: An excellent ambassador or team leader.
Career options: Your persuasion could be well suited for being a travel agent.
Study: Travel and tourism at schools like:
Scorpio
You are: Focused and can tune out distraction.
Career option: You will probably thrive as a mechanic or working on machines.
Study: Any of the programs at: Automotive Training Centre
Sagittarius
You are: Full of energy and an excellent decision-maker.
Career options: Marketing looks like a great fit.
Study: Advanced Business Management in Marketing at Brighton College.
Capricorn
You are: Very comfortable when in power.
Career options: Why not work in power?
Study: The Wind Energy Technician at Cestar College of Business, Health and Technology.
Aquarius
You are: Always exploring new ideas.
Career options: Music might be the right outlet for that experimentation.
Study: Any number of programs at:
Pisces
You are: Creative and passionate
Career options: Pour your creativity into film.
Study: Any number of programs at: