Tuesday, March 6th, 2012
Ontario College and University Students Occupy Queen's Park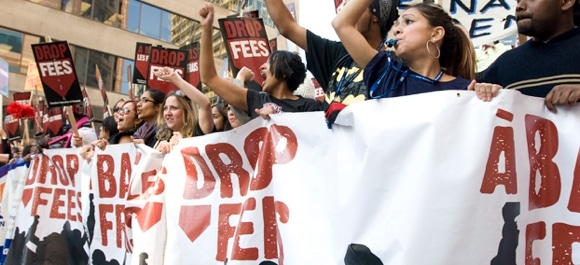 Students from across Ontario are in Toronto this week to show the government what's wrong with the province's education system, and how they would fix it.
"Students are tired of hearing what bureaucrats, politicians and institutional presidents think is best for them and so we are offering our vision for the sector to Members of Provincial Parliament this week," said Sandy Hudson, Chairperson for the Canadian Federation of Students-Ontario.
Students are responding to the leaked Don Drummond document, "Three Cubed," which offered some unpopular ways to improve Ontario's economy.
"There is a funding crisis in higher education in Ontario and we need MPPs to listen to students and make decisions that are in our best interests," said Hudson.
The students are making their own set of recommendations, all of which can be found in their own document, Students' Interests: Ontario's Future (PDF).
Recommendations such as:
Develop framework that progressively reduces tuition fees by30 per cent over four years.
Eliminate interest on the Ontario portion of Ontario Student Assistance Program
(OSAP) loans.
Lower the OSAP debt cap from $7,300 to $6,250 per two-term academic year by lowering the threshold on the Ontario Student Opportunity Grant (OSOG).
Extend OSAP eligibility to part-time students and pro-rate OSAP loans and grants.
Eliminate age restrictions on OSAP loans and grants
"With students from all regions of Ontario descending on Queen's Park today, we intend to ensure that politicians listen to the people most affected by higher education policy: students," said Hudson.