Monday, January 9th, 2012
Drake Medox College Looking To Expand Their Reach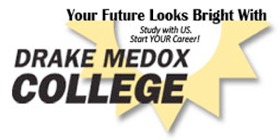 Vancouver's Drake Medox College has been offering a Health Care Assistant Diploma Program for almost eight years and is now looking towards other communities.
The college's officials have expressed that the school is looking to offer a satellite program, if the demand exists.
"As health care providers, and advocates for quality care for our senior community, our interest extends beyond our service provision boundaries, to the general seniors' population," said Susan Gooding, manager of program development for Drake Medox College to The Gulf Islands Driftwood.

"We are hoping to provide satellite locations for one-time delivery of the Health Care Assistant Diploma Program to a number of areas throughout B.C. where there is a gap between the need for qualified facility and home care services and the supply of certified Health Care Assistants."
The school has expressed that they would offer the six-month program some time in 2012, if a minimum of 12 students register.
"After talking to the employers, it doesn't seem that 12 is too many," said Goodling.
"Greenwoods has been extremely accommodating. They probably stand to benefit the most [from the added workers] – as well as the retirement community."
Schools mentioned: Drake Medox College