Tuesday, October 25th, 2011
Canada's National Student Loan Paced to Pass 15-Billion by 2013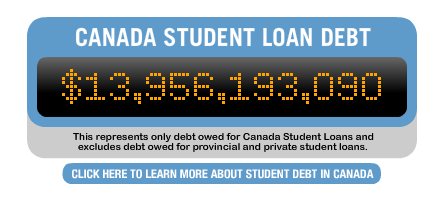 Canada's national student debt average is currently approaching 14-billion, and is expected to reach 15-billion by January of 2013.
This is according to the 2010-11 Actuarial Report released by the Federal Government. It shows that Canada will surpass its own regulations on how much student debt it can loan out, in just over a year.
"Mounting costs and a lack of a federal vision for post-secondary education means that we are on the verge of bankrupting a generation," said Roxanne Dubois, National Chairperson of the Canadian Federation of Students.
The Canadian Federation of Students has a running student loan counter on their website, and claim the only way to reduce student debt is a mix of grants to provinces to reduce tuition, while converting some student loans to non-repayable grants.
The HRSDC's Actuarial Report on the Canada Student Loans Program states that the mix of more young students going to school, and adults returning to school, has added more pressure to the federal loan program. Their data projects the number of student loans issued to reach as high as 581,000 by 2035, compared to the 405,000 from last year. This would cost the government almost $800 million per year.