Friday, September 30th, 2011
Labatt Fights Student Drinking and Driving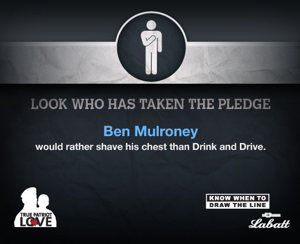 Labatt is asking college and university students to Take the Pledge against drinking and driving as part of the second anual Be(er) Responsible Day.
"With Labatt's Take the Pledge campaign we are helping set the tone for responsible drinking on campuses right at the beginning of the school year," said Charlie Angelakos, Vice President, Corporate Affairs, Labatt.
"We've already enlisted the support of a number of leading politicians, athletes and other well-know Canadians to Take the Pledge. Getting students to make that same commitment engages this important community of young adults."
As part of the campaign, Team Labatt will hit university and college campuses and ask students of legal drinking age to Take the Pledge in real time via iPads at the campaign's Facebook group. For each pledge made, Labatt will donate $1 to the True Patriot Love Foundation, in support of Canadian Military Families.
Pledges can also be made on Facebook.com/labattdrawtheline.
Global Be(er) Responsible Day is the latest in Labatt's ongoing commitment to promoting responsible drinking. The Canadian bottler of brands such as Budweiser, Alexander Keith's, Kokanee and Labatt Blue is also famous for their "Know Where to Draw the Line" campaign, as well as the "Make A Plan" program.