Friday, September 16th, 2011
VanArts Signs Partnership with Woodbury University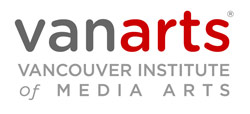 Earlier this summer, VanArts – Vancouver Institute of Media Arts announced an exciting new partnership with California's Woodbury University.
In August, Woodbury's Animation Chair Dori Littell-Herrick made it official and visited Vancouver to sign the articulation agreement with VanArts President Alan Phillips.
"The VanArts students who come up to us will be joining the program in the junior year and they'll have the opportunity to do a group project and to do their senior project, individually or in a group, and that will build their reel," said Littell-Herrick.
This articulation allows any qualified students from Vanarts' 2D/3D Character Animation diploma programs to apply for continuing education at Woodbury University, and work towards a BFA in Animation. VanArts grads can transfer into the third year at Woodbury's 4-year degree program.
Littell-Herrick also added that Woodbury's location makes it easy to find internships and employment opportunities.
"Woodbury is in the heart of Burbank, and Burbank is the heart of the animation industry."
Woodbury's award-winning and industry-experienced faculty includes VanArts' own founding advisory board member Bill Matthews.
Schools mentioned: VanArts – Vancouver Institute of Media Arts