Thursday, May 19th, 2011
U of T Students Against Flat Fee Tuition For Faculty of Arts and Science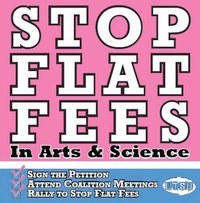 The University of Toronto Students' Union delivered 4,000 signed petition cards to the University President's office this week. The signatures are petitioning against U of T seeking to permanently switch from a pay-per-course model to a flat programme fee.
"We want the administration to work with us to lobby for increased government funding, rather than continuing to impose fee increases for students." said Danielle Sandhu, U.T.S.U. President.
The union claims that the flat fee model would raise tuition fees by up to 66% for an undergraduate education. They claim that tuition fees are already increasing beyond the rate of inflation, and students already take on a big enough student debt in the pursuit of an education
The U.T.S.U. say they find the research around the school's flat fee experimental program to be "surprisingly inadequate for the academic institution." From 2009 to 2011, the school charged flat fees to thousands of incoming students. Subsequent research was to be undertaken to gauge the fees' impact on accessibility to education, student engagement and academic performance. Less than 50 students paying a flat fee were surveyed.
Schools mentioned: The University of Toronto