Wednesday, April 13th, 2011
Vancouver Film School Summer Camp Welcomes International Students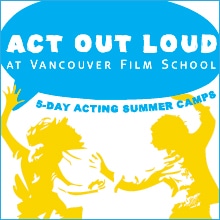 Vancouver Film School is vamping up for their Summer Intensive Programs in Vancouver, as they prepare for an influx of international students.
Last year, the camp was a huge international success with more than 160 creative students attending the camp. They came from 17 different countries, from the United States, to Russia, to Norway.
Young artists, animators, designers, and writers can take part in an intensive week of studying:
Film Production
Makeup Design for Film & Television
Acting for Film & Television
Digital Design
Entertainment Business Management
Writing for Film & Television
Game Design
Animation & Visual Effects
Experience VFS
Sound Design for Visual Media
Aspiring actors can build an acting reel by attending the Act Out Loud workshops for teens and pre-teens.
Workshops will run all summer long, and will give anyone over the age of 17 the "experience of a lifetime."
The goal of the workshops is too spark an artistic interest in young people, while giving them a glimpse into what a career in the creative industry offers and requires.
Schools mentioned: Vancouver Film School