Wednesday, March 30th, 2011
Michael Ignatieff Announces Liberals' "Learning Passport" For Students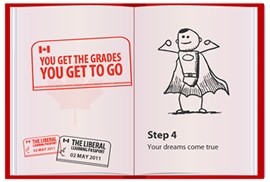 Yesterday Michael Ignatieff announced that his party wants to help every Canadian student go to college or university.
Ignatieff's Liberals unveiled their Canadian Learning Passport plan, an investment of $1-billion that would represent the largest annual investment in non-repayable federal student assistance in Canadian history.
For high school students, the plan would mean tax-free $4,000 to attend university, college or CÉGEP, or $1,000 per year over four years. Students from low-income families would be eligible for up to $6,000, or $1,500 each year.
"The Learning Passport will be a powerful tool for reducing barriers to attending college and university, increasing the flow of highly skilled workers into the Canadian economy," said Ignatieff.
Not everyone is sold on the program being the answer to accessibility. The Canadian Federation of Students' National Chairperson, David Molenhuis, said more needs to be done to lower tuition.
"While not a silver bullet, it will be interesting to see how this proposal fits within the Liberal's education platform," said Molenhuis. "Financial aid is only half the equation. Tuition fees in most provinces are increasing many times faster than the rate of inflation."
NDP Leader Jack Layton echoed those sentiments, and stated that, "if tuition goes up by $1,000 at the same time you are receiving the $1,000, you are no further ahead."