Monday, November 22nd, 2010
Students, Companies and Schools All Seek Corporate Social Responsibility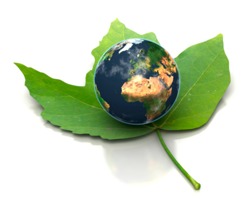 Long gone are the days of a company's bottom line simply consisting of its fiscal achievements. Today, large and small businesses are more focused on a triple-bottom-line of people, planet, and profit.
Dave Donaldson, the Dean of Algonquin College's School of Business, forecasts that students can expect to see this shift reflected in course offerings.
"Organizations are looking to the post-secondary sector to supply the next generation of business leaders to help them make this change," reported Donaldson in a communiqué released just ahead of last week's Corporate and Community Social Responsibility Conference.
The term Corporate Social Responsibility (CSR) encompasses activities that a business voluntarily adopts in order to minimize negative impacts of its operations on the environment or other human beings. Things like:
Offsetting carbon emissions
Providing equity and dignity in the workplace
Employing risk management programs
Providing financial transparency
The conference also discussed the results of a recent national survey, examining Canadians' attitudes towards CSR. Data shows that fifty percent of us would be willing to take a significant pay cut in order to work for a more socially responsible business—something worth considering for soon-to-be graduates trying to choose a potential employer.
The survey further revealed that, while half of Canadians were not clear on the meaning of CSR, more than 60% of us are willing to fork out a few extra bucks (about $8 on a $100 purchase) for products from a socially responsible company.
Penny Collenette, Executive in Residence at Ottawa's Telfer School of Management, spoke at one of the conference's plenary sessions and said identifying responsible companies has become easier.
"As time evolved, and transparent communication technology became instant and accessible, evidence of our insensitivity to the planet, and sometimes to each other, has become glaringly apparent. It is no longer possible for any corporation, or government, to hide misdeeds under the rug."
The value of CSR is certainly nothing new to business schools, who recognize that beyond the intrinsic value of this type of self-regulation, it can have a major impact on recruitment, retention, and ultimately, revenue.
"Socially responsible organizations make more money, it's as easy as that," says Donaldson.
Most business schools now include CSR-focused courses, if not entire programs dedicated to its study.
According to the most recent ranking by the Aspen Institute Center for Business Education, Canada holds 7 of the world's top 100 schools when it comes to integrating sustainability and social responsibility into the curriculum, with York University's Schulich School of Business taking the top spot.
Algonguin College is set to launch its own Bachelor of Applied Business – Sustainability/Corporate and Social Responsibility program in Fall 2014.
The CCSR conference was held at Algonguin College and was co-sponsored by the University of Waterloo, the University of Ottawa, and Carleton University, among others. It featured speakers from both public and private sectors, the non-governmental organization (NGO world, and academia. The keynote address was given by the former President of Mexico, Vicente Fox.
You can read more about the conference by clicking here.