Thursday, October 28th, 2010
Aon Hewitt Research Identifies Canada's Best Employers of 2011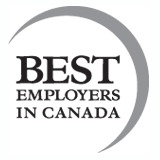 Students graduating into the workforce can take comfort; the best employers in Canada are found in every sector – from communications, to construction, to hospitality, to, McDonald's (seriously).
Aon Hewitt and the Queen's University School of Business have released their annual list, The Best Employers in Canada and the Best Small & Medium Employers in Canada. In the wake of a crippling financial recession, the list celebrates companies who have remained committed to their employees.
"These employers didn't waiver in their commitment to sustaining and improving high employee engagement, even during tough economic times. They weathered the recession thanks in large part to a highly productive workforce focused on organizational success," said Neil Crawford, Aon Hewitt's national Best Employers studies leader.
The top 10 includes:
Cisco Canada (Communications Equipment)
EllisDon Corporation (Construction & Engineering)
PCL Constructors Inc. (Construction & Engineering)
CIMA+ Partner in Excellence (Construction & Engineering)
McDonald's Restaurants of Canada Limited (Hotels, Restaurants & Leisure)
OpenRoad Auto Group Ltd. (Specialty Retail)
Marriott Hotels of Canada Ltd. (Hotels, Restaurants & Leisure)
Bennett Jones LLP Professional Services
Wellington West Holdings Ltd. (Diversified Financial Services)
Farm Credit Canada (Diversified Financial Services)